I have been fortunate to have collaborated with a number of musicians and organisations across a number of different fora. Among many, the Grand Union Orchestra has been a learning platform in which I had the opportunity to make music with a special group of people, Brian Abrahams and Claude Deppa to name two. As a freelance musician I had the chance to perform with a number of distinguished artists, most recently with Savinna Yannatou and Primavera en Salonico and with Michalis Siganidis' group. Below you can listen to audio samples of past performances with the Cyprus Big Band and my quartet as well as information about my project Cafe Balkan.
Cafe Balkan
---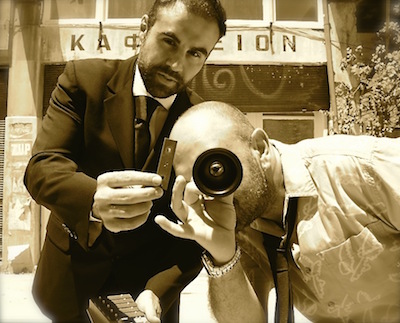 Cafe Balkan has its roots in earlier collaborations and long-standing friendships. The band was conceived in Thessaloniki (Greece) in the winter of 2012 and started taking shape at a reunion on stage at the Mansion at Axiothea street (Cyprus) in September 2013. In Cafe Balkan, the music acts as a means of communication between artists with common roots but different experiences.
Myself, Vasilis Kommatas and Glafkos Kontemeniotis build upon our musical traditions, whilst balancing between traditional and modern sounds. The band's quest for musical identity is based on improvisation (jazz or other), on deconstruction and maybe reconstruction of rebetiko songs and traditional melodies from Greece, Cyprus, Bulgaria, FYROM and Asia Minor. The result is a language made personal through traditional melodies from the Mediterranean and the Balkan Peninsula. You can listen to our music below. The first track is a traditional song from the geographical area of Macedonia, and be heard in villages in Greece, Bulgaria and Fyrom. The second track is a song from Asia Minor arranged by myself and Glafkos Kontemeniotis from and the third a traditional dance from the Northern part of Greece, again arrange by myself and Glafkos Kontemeniotis. All tracks are part of the recent digital release of our first record, which you can listen to and download for free from our page on bandcamp by clicking here.
---
Glafkos Kontemeniotis
The Cypriot pianist Glafkos Kontemeniotis has been an active performer, arranger and composer since he moved to New York in 1988. Here you can listen to an original composition from his latest album, Yugen, that features Joel Frahm (saxophone), Marcus McLaurine (bass), and Dave Meaden (drums).
---
Monsieur Doumani
Multi-award winning group Monsieur Doumani compose contemporary Cypriot songs with a twist. Here's a track I had the pleasure of recording with them in 2018.
---
Stelafi
Other collaborations
A selection of recordings from earlier collaborations with the Cyprus big band and in a quartet setting with Tasos Stylianou (el. guitar), Charis Ioannou (alto sax), and Gabriel Karapatakis (el. bass).
---
Katrina Ballerina by Woody Shaw:
Five Alarm Fire with the Cyprus Big Band (excerpt):
Prelude to a Kiss by Duke Ellington: